At En Community Services Society, our volunteer community has a culture of care and our volunteers believe in leading an active and enriching lifestyle. All volunteers are if with opportunities to be trained and equipped with relevant skills, to serve the community. Link us today to be a part of the En family!
– Data entry (including simple Chinese character input)

– Video production
– Copywriting


Youth Befriender (13-30yo)

– Befriend a small group of seniors through IT, culture, history, music OR art-themed activities and conversations.
You may also refer to our page on giving.sg for more opportunities:
https://www.giving.sg/en-community-services-society
Group volunteers (corporate/schools):
– Assist staff in planning and executing half day workshops for children from low-income households

– Assist staff in planning and executing half day engagement event for seniors above 50 years old

– Dance group performance for around 15 mins
– 1 Indian and 1 Malay performance group
Please write to us at volunteer@ecss.org.sg for suitable volunteer opportunities!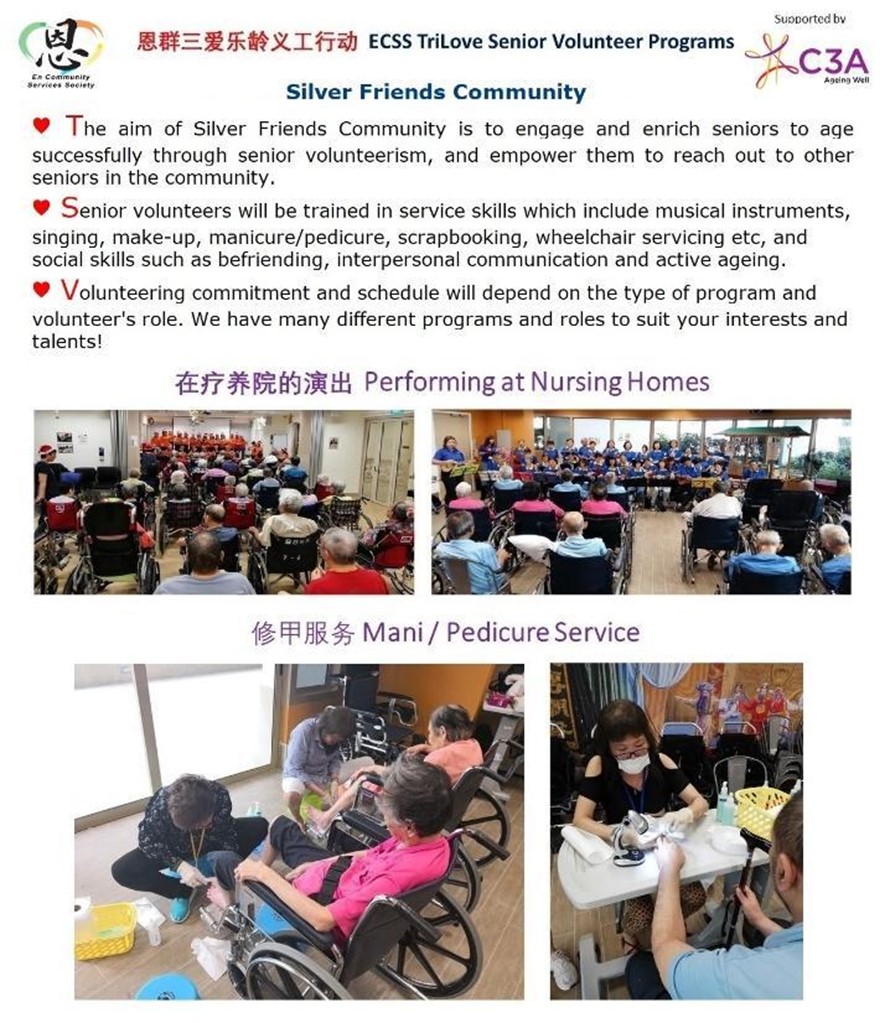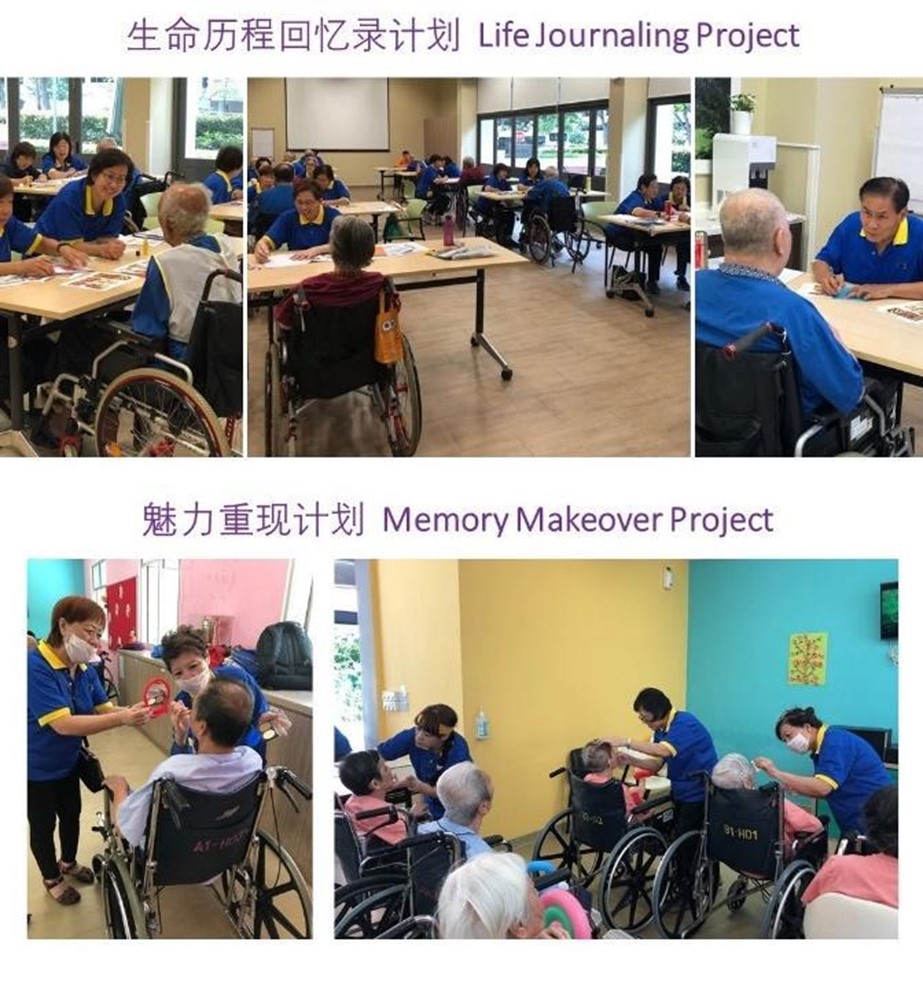 Intergenerational Learning Program
These programmes, supported by Council for 3rd Age (C3A) under the National Silver Academy (NSA), are highly interactive bilingual (English and Mandarin) cooperative learning activities, when youths teach seniors on the topics of technology, music and culture. These programmes allow seniors and youths to come together to learn, to enjoy some interesting activities, to build some mutual understanding for individuals with different personalities, and together to create a caring community.
Each session is about 3.5 hours (0.5 hour of volunteer briefing + 3 hours of workshop).
| | |
| --- | --- |
| | |
| Phone: 84990717 (Natalie) | Phone: 88700447 / 67886625 |
Time: 1.30pm-4.30pm | Venue: Various locations
Striking A Same Chord
拨动你我心弦
Never Misses A Beat
停不了的节奏
The Sandwich Generation
夹心一代
The Chopsticks People
拿筷子的人
From Pioneer to Merdeka
从建国一代到立国一代
Smart Social 智能社交 - Instagram
Smart Learn 智能学习 – Let's Zoom
Smart Learn 智能学习 – Google
Smart Pay: Cashless Convenience
智能付款:无现金的便利
Along the Singapore River
畅游新加坡河
Street Art & Graffiti
街头壁画与涂鸦
Striking A Same Chord
拨动你我心弦
Striking A Same Chord
拨动你我心弦
Music experiential learning workshop for seniors and youths to engage in mutual music learning activities. Youths and seniors take turns to share a music lesson like the ukulele or a song and learn from each other. The seniors and youths will share the challenges and joy of learning music. Youths will encourage the seniors to believe they still have the agility to learn new skills. Seniors will inspire the youths with their perseverance to pick up music learning despite the challenges of ageing. The programme features the learning of singing, ukulele and percussions, and culminates at the jamming of modern pop songs and oldies by seniors and youths. 
此音乐体验学习工作坊,让乐龄和青少年共同参与音乐学习活动。内容包括让乐龄和青少年互相分享四弦琴和其它乐器的学习。乐龄和青少年将分享学习音乐的挑战和乐趣,从而鼓励
乐龄人士学习新知识与技能。年轻人则可以从了解乐龄尽管面临老龄化的挑战,仍有坚持学习音乐的毅力而得到激励。此课程以学习弹拨四弦琴和打击乐开场,到乐龄和年轻人即兴演奏现代流行歌曲和老歌金曲结束,让音乐触动和连系老少的心弦。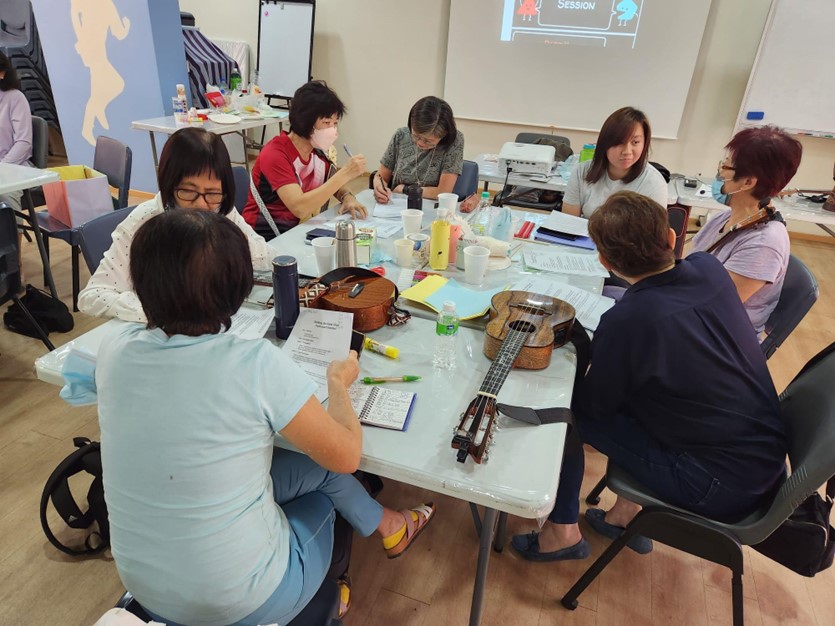 Never Misses A Beat
停不了的节奏
The Sandwich Generation
夹心一代
The Chopsticks People
拿筷子的人
From Pioneer to Merdeka
从建国一代到立国一代
Smart Social 智能社交 - Instagram
Smart Learn 智能学习 – Let's Zoom
Smart Learn 智能学习 – Google
Smart Pay: Cashless Convenience
智能付款:无现金的便利
Along the Singapore River
畅游新加坡河
Street Art & Graffiti
街头壁画与涂鸦